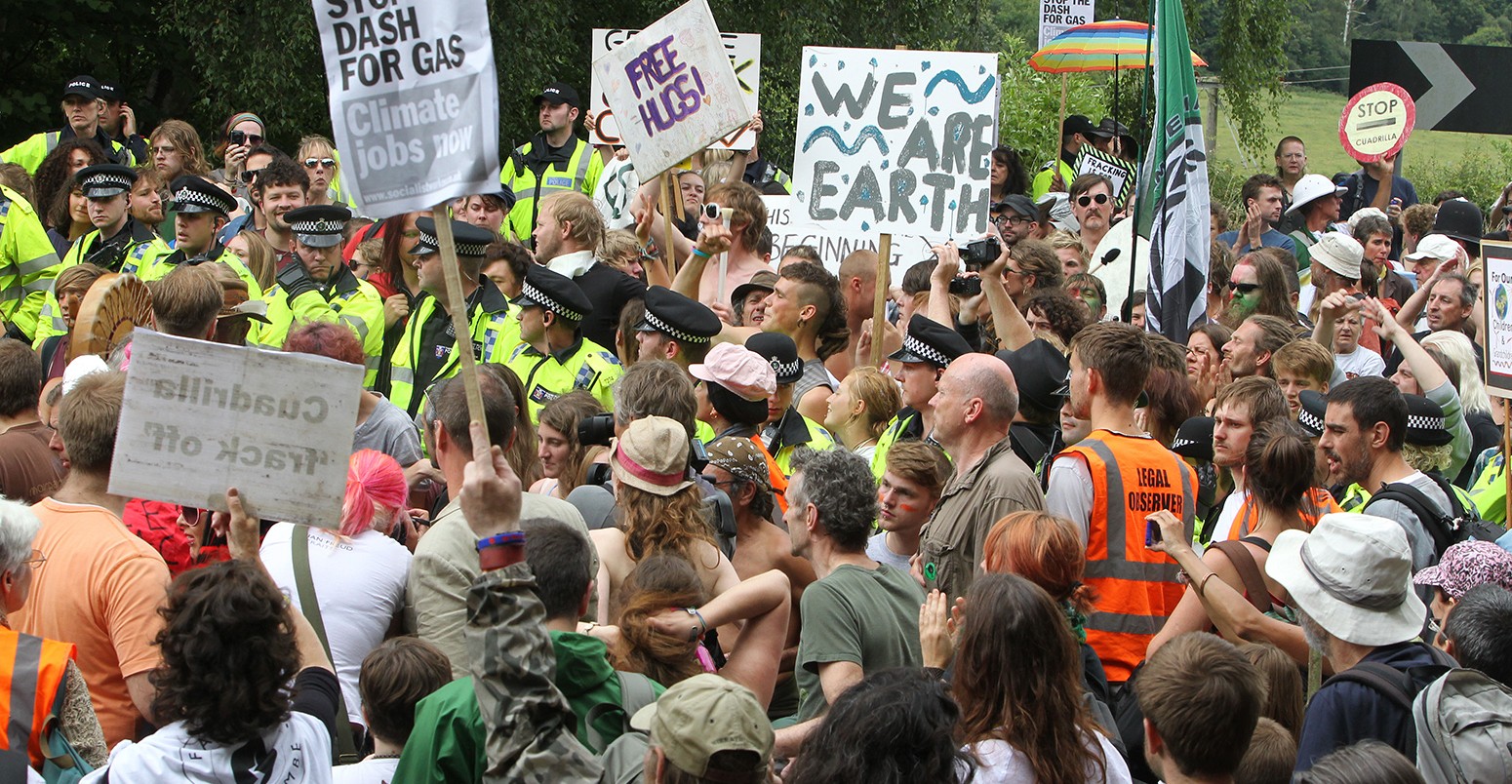 © Randi Sokoloff/Shutterstock
In depth: Infrastructure bill amendments on fracking, fossil fuels, and zero carbon homes


Oil and gas
In depth: Infrastructure bill amendments on fracking, fossil fuels, and zero carbon homes
MPs vote to increase restrictions on fracking.
Conservatives and Labour claim credit for creating a positive investment environment for UK shale gas industry.
Government agrees to obligation to outline how fracking fits within the UK's climate targets.
Industry react positively to amendments. Environmental groups fear changes are superficial.
Opposition fails to remove a clause obligating the UK to "maximise" oil and gas extraction.
Infrastructure bill leaves House of Commons with watered-down proposal for building new zero-carbon homes.
MPs yesterday voted to increase restrictions on fracking while continuing to try and maximise exploitation of the UK's oil and gas reserves. They also voted to water down a commitment to provide zero-carbon homes.
All three items were contained in the mammoth infrastructure bill. The energy and climate provisions were the focus of what has become an increasingly partisan fight to dictate the future direction of the UK's energy and climate policy.
Fracking
The most high-profile amendments to the bill were around the issue of whether the UK should go "all out" for shale gas. After several hours of debating, amendments were included to increase the stringency of regulations dictating where shale-gas companies can explore, and place further obligations on the government to explain how fracking fits with the UK's broader climate-change goals.
Before the debate, the parties made clear their positions on whether the government should support the nascent industry. Conservatives MPs, and the chancellor in particular, are very keen. Labour is willing to permit fracking with some additional checks. Some Liberal Democrats and the Greens remain staunchly against any fracking.
A cross party amendment for a fracking moratorium was rejected by 308 votes to 52. Labour abstained from the vote in light of the government accepting its amendment forcing shale-gas companies to comply with more stringent environmental and planning regulations.
The government accepted an opposition amendment to allow fracking with "appropriate regulation and monitoring", broadly in line with recommendations from an Environmental Audit Committee report released yesterday.
That amendment says:
"Any hydraulic fracturing activity can not take place:
(a) unless an environmental impact assessment has been carried out;
(b) unless independent inspections are carried out of the integrity of wells used;
(c) unless monitoring has been undertaken on the site over the previous 12 month period;
(d) unless site-by-site measurement, monitoring and public disclosure of existing and future fugitive emissions is carried out;
(e) in land which is located within the boundary of a groundwater source protection zone;
(f) within or under protected areas;
(g) in deep-level land at depths of less than 1,000 metres;
(h) unless planning authorities have considered the cumulative impact of hydraulic fracturing activities in the local area;
(i) unless a provision is made for community benefit schemes to be provided by companies engaged in the extraction of gas and oil rock;
(j) unless residents in the affected area are notified on an individual basis;
(k) unless substances used are subject to approval by the Environment Agency
(l) unless land is left in a condition required by the planning authority, and
(m) unless water companies are consulted by the planning authority."
A Green and Liberal Democrat backbench amendment to prevent changes to trespass laws to allow fracking under people's homes was rejected.
Energy minister Amber Rudd, who was charged with guiding the bill through the Commons, also agreed to an "outright ban" on fracking in "national parks, sites of special scientific interest and areas of outstanding natural beauty."
Rudd also agree to add an amendment requiring the government to outline how its support for fracking aligns with the UK's broader climate change goals.
The energy and climate secretary will now be required to consider research from government advisor the Committee on Climate Change. If the committee deems shale gas extraction to be contrary to the UK's climate targets, the secretary will either have to remove companies' licenses or explain why they are allowing fracking to continue. Rudd explained:
"We will introduce a further amendment in the Lords to place a duty on the Secretary of State to consider in every carbon budget period advice from the Committee on Climate Change as to the impact of UK shale development on the UK's overall climate change objectives. If the Committee on Climate Change advises that shale development adversely impacts on climate change objectives, the Secretary of State must either choose to deactivate the right of use provisions or to make a written statement to Parliament explaining the reasons."
The Committee on Climate Change said in a statement that shale gas exploration "is a new and emerging area and it is important to ensure that future exploitation is consistent with existing carbon budgets and our 2050 target for reducing emissions. The Committee on Climate Change is able to provide that advice to Government and Parliament." Its previous work "suggests that some shale gas exploitation may be consistent with meeting carbon budgets, if suitable regulation is in place", it added.
The amended bill showed the government was taking steps to "develop the best shale gas environment we can, for the benefit of the UK generally", Rudd said.
Maximising oil and gas
MPs were allotted two hours to debate the energy elements of the infrastructure bill, with the shale-gas amendments swallowing the lion's share of time. That meant other important amendments were either overlooked or rushed through.
In particular, one clause that has come to symbolise the chasm between the parties' views on climate change was barely mentioned. Clause 37 obligates governments to produce strategies for "maximising the economic recovery of UK petroleum".
The position was first recommended by Sir Ian Wood in his government-commissioned report on how to maximise the returns from the UK's ageing North Sea oil and gas industry. Environmentalist George Monbiot calls the clause "a legal obligation on current and future governments to help trash the world's atmosphere".
A Green and Labour backbench amendment to remove the clause was rejected by Rudd, who said:
"The Government feel that oil and gas recovery makes an important contribution to the national economy by supporting jobs and growth. In June 2013, we commissioned Sir Ian Wood to review UK offshore oil and gas recovery and its regulation, and we have been making good progress implementing the recommendations."
So if the Lords approve the bill, the government will have a legal obligation to "maximise" oil and gas extraction, though it remains unclear what that may entail.
Zero carbon homes
Finally, MPs decided not to amend a clause defining how the government goes about reducing the carbon footprints of new homes.
The UK had plans in place for all newly built homes to be zero-carbon by 2016. But the infrastructure bill watered down the proposals, removing a recommended carbon performance standard for new homes. It replaces it with a scheme where developers pay into a central pot, effectively establishing a carbon tax to offset the failure to reduce the new homes' carbon footprints.
The government rejected a series of Labour amendments to bolster the plans by forcing developers to prove the improvements couldn't be made during the building process.
Stephen Williams, the Liberal Democrat communities and local government minister, said the amendments would "cause uncertainty and cost to house builders, because the house builder and the building control body would have to agree a 'reasonable' on-site energy performance level on a case-by-case basis before any development could commence."
John Hayes, the Conservative transport minister and former energy minister, also endorsed the government's approach, saying it was more "cost-effective and practical" than Labour's alternative.
Reaction
The Conservatives and Labour both vied to take credit for amended bill.
Hayes concluded the debate by saying the bill "supports house building; introduces rights for communities to buy a stake in new, commercial renewable electricity schemes; boosts our energy security and economic growth by making the most of North sea oil and gas reserves; and facilitates shale gas and geothermal development." It is "a bold bill", he said, "introduced by a far-sighted administration."
Labour's shadow energy and climate minister said in a statement responding to the debate that the opposition had successfully forced a "massive U-turn" by the government on its position on shale gas. Flint said:
"Labour has always said that shale gas extraction cannot go ahead unless there is a system of robust regulation and comprehensive inspection, but David Cameron has repeatedly ignored people's genuine and legitimate environmental concerns over shale gas. Now, thanks to Labour's amendment, the Government has been forced to accept that tough protections and proper safeguards must be in place before fracking can go ahead."
Environmental groups were concerned the amendments do not go far enough, however. Donna Hume, energy campaigner at Friends of the Earth, said in a statement that the amendments "would not prevent fracking getting the green light in Lancashire, despite overwhelming opposition from local communities", adding that "the only way to safeguard our climate, local communities and their environment from the fracking threat is to halt shale gas completely."
Industry representatives were pleased fracking could now proceed, albeit under restricted conditions. Ken Cronin, chief executive of industry lobby group UK onshore oil and gas (UKOOG), said:
"It is good news that MPs have rejected the misguided attempts to introduce a moratorium on hydraulic fracturing. Most of the amendments agreed are in line with best practice in the industry or codify the directions of regulators, which the industry would naturally comply with. We now need to get on with exploratory drilling to find out the extent of the UK's oil and gas reserves."
The infrastructure bill debate was just one obstacle the industry is likely to face in the coming months. Philip Mace, partner at law firm Clyde & Co, said in a statement:
"The rejection of the moratorium proposal and approval of the main provisions facilitating fracking will be seen as a positive step for the industry. However, investors are still likely to see the future of unconventional oil and gas in the UK as uncertain as we go into the general election. The additional conditions placed on fracking will almost certainly increase costs. This will need to be looked at carefully in a lower oil and gas price environment."
While yesterday's debate was a major landmark for the infrastructure bill, it is still not law. The House of Lords will now consider the amendments, before deciding whether to send it back to the Commons, or pass it into law.
Main image: Anti-fracking protest, Balcombe, UK.
Sharelines from this story
In depth: Infrastructure bill amendments on fracking, fossil fuels, and zero carbon homes