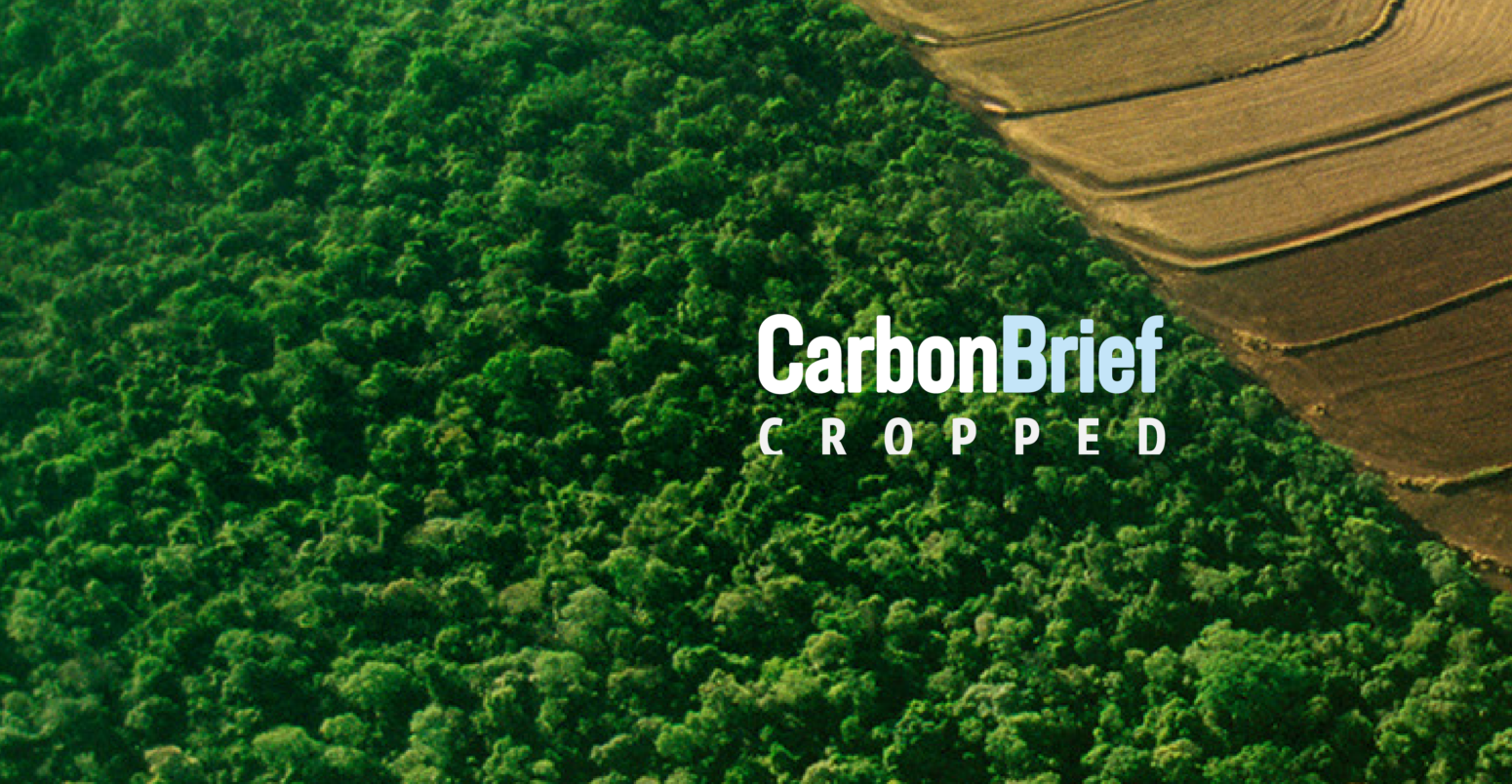 Cropped, 23 February 2022: World financing 'own extinction'; Catastrophic wildfires; Ethanol emissions


Nature
Cropped, 23 February 2022: World financing 'own extinction'; Catastrophic wildfires; Ethanol emissions
Welcome to Carbon Brief's Cropped.
We handpick and explain the most important stories at the intersection of climate, land, food and nature over the past fortnight.
This is an online version of Carbon Brief's fortnightly Cropped email newsletter. Subscribe for free here.
Snapshot
The world is spending at least $1.8tn (£1.3tn) every year subsidising activities that contribute to climate change and biodiversity loss, according to an analysis released this week. Campaigners say the funding, equal to 2% of global GDP, should be repurposed to support efforts to restore nature and reach net-zero emissions.
Sign up to Carbon Brief's free "Cropped" email newsletter. A fortnightly digest of food, land and nature news and views. Sent to your inbox every other Wednesday.
A new UN report warned that "catastrophic wildfire events" could become 30% more common by 2050 and 50% more common by 2100, as a result of global warming and land-use change. The authors called for a "radical change" to the way governments tackle wildfires, with more focus on prevention and preparedness.
Corn-based ethanol in the US is likely at least 24% more carbon-intensive than gasoline, found a new study, part-funded by the US Department of Energy. This contradicts previous government research that labels biofuels as "relatively green". The research said the world's biggest biofuels programme previously underestimated land-use change emissions.
Key developments
World bankrolling its own demise
COMES AT A COST: The world's governments are spending at least $1.8tn (£1.3tn) every year on subsidies that exacerbate biodiversity loss and global warming, the Guardian reported. This money, equivalent to 2% of global GDP, is being spent on support for activities such as cattle ranching, pesticide use and fossil-fuel production, according to the report from The B Team, a global non-profit co-founded by British billionaire Sir Richard Branson. It is the first estimate of its kind in more than 10 years, according to the report authors.
BREAKING THE CYCLE: A separate Guardian analysis examined why the world is still "financing its own extinction" despite a growing awareness of the threats posed by climate change and biodiversity loss. The newspaper noted that abolishing harmful subsidies will be key to tackling the twin crises but that "recent protests in France, Kazakhstan and Nigeria over the threatened loss of subsidies are warnings to leaders on how subsidy reform can go wrong". It added that some countries, including Costa Rica, are leading the way by launching successful initiatives to pay landowners for ecosystem services.
GENEVA CALLING: The report comes less than a month before a key round of UN biodiversity talks are due to take place in Geneva, Switzerland. Removing harmful subsidies is a staple target of a draft international agreement for restoring biodiversity, which will be negotiated in Geneva before being formally adopted by countries at COP15 in Kunming, China later this year. The current draft calls for countries to reduce harmful subsidies by at least $500bn per year by 2030, but the B Team has called for this target to be strengthened to eliminate all destructive financing by the same date.
Catastrophic fires on rise
IN FLAMES: Catastrophic wildfire events that devastate human land and ecosystems could become 30% more common by 2050 and 50% more common by 2100 under a medium emissions scenario ("RCP6.0"), CNN reported. The findings come from a new report on "extraordinary landscape fires" from the UN Environment Programme (UNEP) involving more than 50 researchers from around the world. The projected increase could come as a result of global warming and land-use change, according to the report.
UNEQUAL IMPACTS: The increase in wildfires is likely to be concentrated in certain areas, the report said. It notes that the Arctic is "very likely" to experience significant increases in burning by the end of the century. If greenhouse gas emissions (GHGs) continue at their current rate, tropical forests in Indonesia and the southern Amazon are also likely to see an increase in burning. The report added that areas that already see high levels of burning are also likely to undergo changes. "This includes tropical savannahs and tropical and temperate grasslands, which are predicted to be altered by increased burning in some areas and decreased burning in others," the report said.
MANAGING RISKS: The report states that "eliminating the risk of wildfires is not possible, but much can be done to reduce risks", with UNEP calling for a "radical change" to how governments manage wildfires. Much more focus should be given to "prevention and preparedness", the report authors said. Inger Andersen, UNEP executive director, added: "Those emergency service workers and firefighters on the frontlines who are risking their lives to fight forest wildfires need to be supported. We have to minimise the risk of extreme wildfires by being better prepared: invest more in fire risk reduction, work with local communities, and strengthen global commitment to fight climate change."
Ethanol worse than petrol
BIOFUEL BUBBLE: A new study published in the Proceedings of the National Academy of Science (PNAS) found that corn-based ethanol "is likely at least 24% more carbon-intensive than gasoline", Reuters reported. This is attributed to land-use emissions associated with growing corn, along with processing and combustion emissions.
DIVERGENT DATA: The findings of the study, part-funded by the US Department of Energy, contradict previous research commissioned by the US Department of Agriculture (USDA) that "showed ethanol and other biofuels are relatively green", the story said. "Corn ethanol is not a climate-friendly fuel," lead author Dr Tyler Lark told Reuters. Ethanol trade lobby president Geoff Cooper called the study "completely fictional and erroneous", arguing the authors used "worst-case assumptions [and] cherry-picked data".
CORN RUSH COSTS: Biofuels in the US account for nearly half of all global biofuel production. They are governed by the US Renewable Fuel Standard (RFS), whose environmental outcomes have not been sufficiently assessed, the study authors said. They assessed the land and water footprint of the RFS in its first eight years, observing that it disproportionately increased corn prices, which led to more land being converted towards growing corn (by 8.7% or 2.8m hectares) and between 3 to 8% more nitrogen fertiliser being used every year. They found that land-use change emissions attributable to the policy were "underestimated" and "are enough to fully negate or even reverse any GHG advantages of the fuel relative to gasoline". The authors conclude that the land-use emissions of renewable fuels must be better understood before "projecting" their climate performance.
News and views
AMAZON DESTRUCTION: The Amazon rainforest saw record deforestation in January, BBC News reported. Brazilian Amazon deforestation in January was five times larger this year than in 2021 and higher than in any January since records began in 2015, according to satellite data from Brazil's space agency Inpe. Greenpeace Brazil told BBC News that the new data "yet again exposes how the government's actions contradict its greenwashing campaigns". Brazil's right-leaning president Jair Bolsonaro has significantly weakened legal protections for the Amazon since he came into office in 2019, according to the outlet.
OASIS BLUES: Debt-stricken date farmers living near Tunisia's largest oasis were "ignored" to set up state-owned solar plants financed by the EU and Germany, Climate Home News reported. The Tozeur oasis region on the edge of the Sahara is gripped by water poverty as a result of growing land and climate pressures. In the last two years, locals have endured record high 50C temperatures, very low rainfall and mite attacks that turn their date crop to ash. While farmers are running up huge electricity bills to extract water, "some of the water has been diverted to go to this solar farm", the story reported. Meanwhile, Tunisia's state-run energy utility threatened to cut off power to farmers who defaulted on their energy bills. "They've got some nerve to implement a solar power plant, without it being planned to benefit those who suffer the most here," a farm leader told Climate Home News.
INDIGENOUS SOVEREIGNTY: A Mayan Indigenous community has taken the government of Guatemala to an international human rights court, arguing for "permanent sovereignty" over their natural resources. The Maya Q'eqchi' community of Agua Caliente is fighting for collective land rights and to cancel permits of a nickel mine that did not consult or obtain their consent, Climate Home News reported. According to the story, the Indigenous plaintiffs are going a step further in their suit that is being heard today before the Inter-American Court of Human Rights. Lawyers hope to argue that the "court should recognise the rights of Indigenous people to permanent sovereignty over their natural resources as a principle of public international law", said US-based lawyer Leonardo Crippa. He told the news portal that "consultation is not enough, consent is not enough". If recognised, it could set a "historical" legal precedent, with ripple effects for climate action across Latin America.
INDONESIA PALM OIL: Indonesia rejected a controversial proposal put forward by the country's leading forestry institute to reclassify palm oil plantations as forest, Mongabay reported. If accepted, it would have meant that existing palm oil estates would count as forests, and new plantations would be considered "reforestation", the story said. The Bogor Institute of Agriculture's researchers have been pushing to allow palm oil companies to plant in forest areas – something they're currently prohibited from doing – since 2018, it reported, prompting debate and backlash. According to government estimates in the story, "there are 3.37m hectares of oil palm plantations currently operating illegally inside forest areas". On 7 February, Indonesia's environment secretary-general told parliament that "there are no plans to reclassify oil palms" and it plans to "still study the proposal".
UK FARMING EMISSIONS: The UK government has quietly announced a target to reduce emissions from agriculture by up to 6m tonnes of CO2 equivalent (CO2e) per year between 2033 and 2037. The goal was referenced by Victoria Prentis, minister of state at the Department for Environment, Food and Rural Affairs (Defra), in her response to a written parliamentary question released earlier this month. When asked about the origins of the target by Carbon Brief, Defra said the target was first included deep within a document on its environmental land management scheme released in January. The UK's independent climate advisers, the Climate Change Committee (CCC), recommends a tougher reduction in agricultural emissions, from a total of 54.6m tonnes of CO2e in 2018 to 39m tonnes of CO2e by 2035, under its central scenario for how the country can reach its net-zero goal.
Extra reading
New science
Accounting for local temperature effect substantially alters afforestation patterns
Environmental Research Letters
New research found that accounting for local cooling benefits from afforestation and reforestation could have a significant impact on incentives for forest establishment, especially in tropical climates. Study authors noted that while the impacts of mitigation measures such as afforestation in tropical areas have been well documented, scenarios have turned a "blind eye" to their biogeophysical (BGP) effects, such as cooler temperatures. Researchers combined CO2 sequestration benefits with locally induced cooling benefits from forests, which they converted to a CO2 equivalent and combined with a land-use model. The authors warn that "further neglect of BGP effects in scenario-building models undervalues the benefit of tropical forests".
Cash crops and food security: evidence from smallholder cocoa and cashew farmers in Ghana
Agriculture & Food Security
A new study found that "contrary to literature that cash crops undermine food security", cocoa farming in Ghana has a positive impact on household crop income and food security. That said, income from cocoa farming alone "is not high enough" and requires re-investment in other food crops or cash crops – such as cashew nuts – to ensure food security. Researchers surveyed 408 randomly selected households in 12 rural communities in the "Forest-Savannah Transition Zone" of Ghana. They recommended "a semi-subsistence system that ensures optimum combination of cash and food crops, but this may require sufficient access to land".
The role of different governance regimes in reducing native vegetation conversion and promoting regrowth in the Brazilian Amazon
Biological Conservation
The presence of Quilombola Territories – settlements occupied by the descendants of escaped Afro-Brazilian slaves – contribues to reduced levels of Amazon deforestation, when compared to control groups, a new study found. The study reported that Quilombola Territories had native vegetation loss rates that were 5.6-times lower than in matched control groups. "Importantly, our results demonstrate for the first time that between 2012 and 2017, Indigenous Lands and Quilombola Territories contributed two and three times more to native vegetation regrowth – a critical process for safeguarding biodiversity in many, if not all, parts of the world," the researchers added. Quilombola communities face persecution and attacks over their land rights.
In the diary
Cropped is researched and written by Dr Giuliana Viglione, Aruna Chandrasekhar and Daisy Dunne. Please send tips and feedback to [email protected].