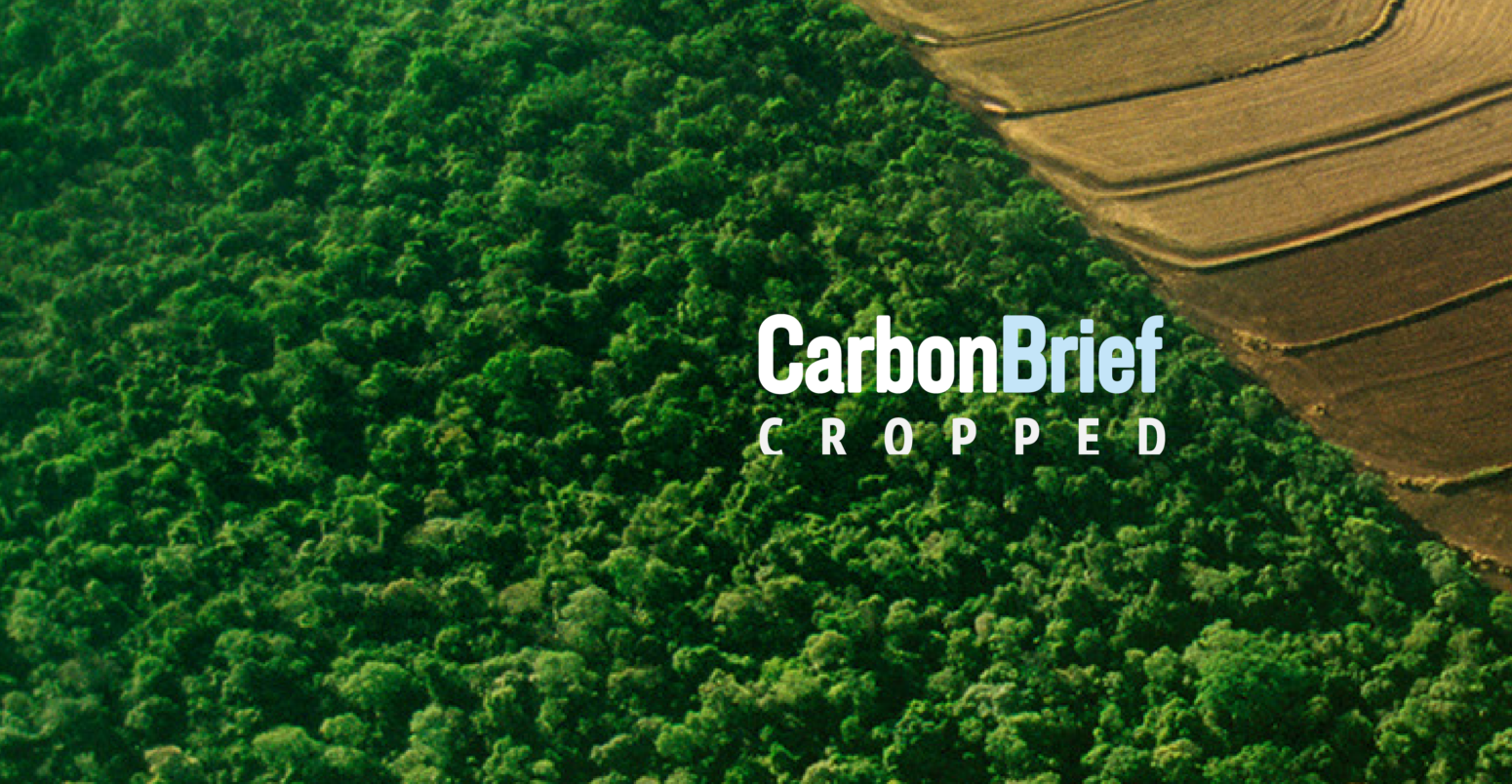 Cropped 8 November 2023: 'Hidden costs' of food; Gas auction controversy; Looking towards COP28


Welcome to Carbon Brief's Cropped.
We handpick and explain the most important stories at the intersection of climate, land, food and nature over the past fortnight.
This is an online version of Carbon Brief's fortnightly Cropped email newsletter. Subscribe for free here.
Key developments
The road to COP28
PROGRESS ON PLEDGES: Climate Home News examined the progress towards the climate pledges made at COP26 in Glasgow two years ago. Nearly 50 additional countries have signed a pledge to reduce their methane emissions by 30% by 2030, bringing the total to 150 countries. However, these countries only constitute half of global methane emissions and "under current trajectories, total human-made methane emissions could rise by up to 13%" over 2020-30. Another major pledge in Glasgow was the forest pledge to halt and reverse deforestation by 2030, signed by more than 140 countries. Countries "remain off track to reach the goal of the Glasgow pledge", Climate Home News wrote. In 2022, tree loss was 21% higher than the required level to achieve zero deforestation in seven years, according to an assessment carried out by several non-governmental organisations.
DECARBONISING FOOD: Ahead of COP28, the Global Alliance for the Future of Food and Dalberg Advisors, a global consultancy focused on sustainability, published two reports looking at the links between food systems and fossil fuels. The Alliance called on stakeholders from the food and energy industries to collaborate to break the bond between the food sector and fossil fuels and transform the food sector to a more sustainable one that is in line with the Paris Agreement. One of the reports laid out the relationships between food and energy systems and provided recommendations to decarbonise the food sector. For example, it said, food producers could start reducing their use of fossil-fuel-based agrochemicals and move to agroecological and regenerative systems.
FOOD FOCUS: A group of more than 80 organisations and individuals, including Unilever, WWF and Columbia Climate School, issued a joint open letter addressed to the UN Framework Convention on Climate Change to demand that food systems be at the centre of negotiations at COP28, reported the UK trade publication Food Manufacture. The organisations pointed out that joint action is required to solve climate change, biodiversity loss and food insecurity. The signatories also asked that National Adaptation Plans and Nationally Determined Contributions include food systems. The letter argued that doing so will encourage countries to create national policies to reduce food waste and move to more sustainable and healthy diets.
Hidden costs of food systems
HIDDEN FIGURES: The UN Food and Agriculture Organization (FAO) found that the "hidden costs" of food systems amount to "at least" $10tn per year, or nearly 10% of total global GDP. The latest edition of its annual State of Food and Agriculture report focused on "true-cost accounting" – tallying up the environmental, health and social costs and benefits of the world's food systems. According to the FAO, unsustainable food systems are contributing to "climate change, natural resource degradation and the unaffordability of healthy diets". Based on an assessment of more than 150 countries' food systems, the report found "that low-income countries bear the highest burden of the hidden costs of agrifood systems relative to national income" – up to one-quarter of their GDP, as compared to just 12% for middle-income countries and less than 8% for high-income countries. 
ENVIRONMENTAL UNDERESTIMATE: Of the total sum, more than 70% of the hidden costs are "driven by unhealthy diets", leading to "non-communicable diseases and causing labour productivity losses", the FAO wrote in a press release, adding that the costs of these health impacts primarily affected higher-income countries. About 20% of the costs are environmental: greenhouse gas emissions, nitrogen emissions, land-use change and water use. The press release noted that the scale of environmental costs "is probably underestimated due to data limitations". FAO director-general Qu Dongyu said: "The future of our agrifood systems hinges on our willingness to appreciate all food producers, big or small, to acknowledge these true costs and understand how we all contribute to them and what actions we need to take." Governments should factor in these true costs "to transform agrifood systems", the FAO added. Next year's report will also focus on true-cost accounting, the FAO said.
INTERCONNECTED COSTS: Dr David Laborde, head of agrifood economics at the FAO, told Wired: "With this report, we can put a price tag on these problems [facing our agrifood systems]." Wired wrote that "hidden costs can be interconnected", using the example of cacao – where farmers in low-income countries "are often paid a pittance for their crops", while over-consumption of chocolate in higher-income countries can lead to negative health outcomes there. Jack Bobo, the director of the Food Systems Institute at the University of Nottingham, told Wired that the cross-border calculations required for true-cost accounting "can get fiendishly complicated". Bobo said: "If you export your environmental footprint to the most biodiverse countries on the planet, you may not have a more sustainable system…There's not one perfect system."
DRC controversy
OIL AND GAS BLOCKS: A company chosen by the Democratic Republic of the Congo for a "technically complex project" to extract gas from Lake Kivu, a large lake located on the DRC-Rwanda border, did not meet the financial criteria in its proposal, an investigation by the Bureau of Investigative Journalism (TBIJ) and Reuters found. Alfajiri Energy, a Canadian start-up, was selected last month to extract methane from Lake Kivu – described as a "killer lake" due to its risk of a toxic, deadly eruption. The DRC's decision to auction off land for oil and gas exploration, announced last year, has been "plagued with apparent preferential treatment and backroom deals", TBIJ said. 
BIDDING WARS: A 2022 report seen by Reuters and TBIJ said that Alfajiri Energy "lacked vital information, such as a work plan or feasibility study" and scored lowest out of three companies applying for the contract. The same experts involved in this report later made a "remarkable U-turn" in a second report, which "reposition[ed] Alfajiri as the highest-scoring bidder", TBIJ said. Reuters noted: "The auction, which took place last year, was the first of its kind to be conducted in [the DRC] under a law from 2015 that was designed to promote transparency in the oil and gas sector."
RESPONSE: Reuters said that the DRC's hydrocarbons minister, Didier Budimbu, denied any problems with the tender process, adding in a text message: "The process was very transparent and it will remain so. I will make sure of it." He told TBIJ that he maintains transparent relations with all potential investors in the tendering process, reassuring them that the DRC is "now the destination for those who want to seize the opportunity to do business". Reuters said the DRC president's office declined to comment. Alfajiri's founder and chief executive, Christian Hamuli, called the process "rigorous, transparent and credible", Reuters said. Hamuli told TBIJ that Alfajiri has "highly qualified and experienced professionals with integrity" who are capable of developing the Lake Kivu project in a secure manner.
THREE BASINS: Elsewhere in Central Africa, tropical forest countries from across three continents agreed to work together to finance and protect their ecosystems, but failed to firm up a unified alliance at a summit in the Republic of the Congo late last month. Carbon Brief reported the key outcomes of the Three Basins Summit, which were described as "underwhelming" by one observer. The final declaration, agreed between countries located in the tropical forest basins of the Amazon, the Congo and the Borneo-Mekong, "fails to commit to any concrete actions for the protection and restoration of nature", according to a statement by Greenpeace. But an observer told Carbon Brief it might "inform policies and strategies at COP28".
News and views
NO OLIVE BRANCH: Some 40,000 olive trees and hundreds of square kilometres of land have been burned in southern Lebanon in "fires caused by Israeli shelling" since last month, Reuters reported. More than 130 fires have been recorded by the agricultural ministry. The olive harvest has not happened yet, meaning that farmers are losing this year's harvest in addition to the trees themselves. More than 110,000 farmers and growers in Lebanon rely on olive trees for their income, Reuters added. Lebanon's agricultural minister, Abbas Hajj Hassan, told the newswire: "People are connected to olives spiritually. Our ancestors planted them, and we are losing them today."
AGREEMENT ON ICE: An international meeting in Tasmania "failed to agree on new conservation areas" for the fragile Antarctic marine environment, the Guardian wrote. The meeting, comprising 26 national governments and the EU, "hear[d] evidence the southern continent is facing a range of crises", but the Russian delegation "opposed proposals to boost environmental protection", the newspaper explained. Further debate on the three proposed protected areas has been pushed to next year as a result. The executive director of the Antarctic and Southern Ocean Coalition, Claire Christian, said: "It feels like we are taking one step forward and two steps back on Antarctic marine protection."
KENYA OFFSETS: Kenya has signed a deal with Blue Carbon, a UAE-based company, that would "concede 'millions of hectares' of its territory for the production of carbon credits", the Middle East Eye reported. This follows a "slew" of similar deals with Liberia, Tanzania, Zambia and Zimbabwe, the news site said. Elsewhere, the Guardian reported on allegations of sexual harassment at a leading carbon-offsetting project in southern Kenya, which is used by companies such as Netflix and Shell. A report from two NGOs alleged "extensive sexual abuse, harassment and exploitation between 2011 and 2023" by senior male employees of Wildlife Works, a California-based firm operating the Kasigau Corridor conservation project. In a statement, Wildlife Works' president, Mike Korchinsky, said the company suspended three people after it became aware of the allegations in August. 
BLOW TO FARMERS: Extreme weather events, such as floods, heavy rainfall and hailstorms, have made Italy fall to second place in worldwide wine production, wrote Fortune, with France now in first place. Overall, European wine production fell 5.5% compared with the average production from the last five years, according to the European farming lobby Copa-Cogeca. Meanwhile, in the UK, farmers have warned that potato and cereal crops might be affected by the recent floods caused by Storm Babet in October, reported the Guardian. The newspaper added that farmers' crops were rotting due to the floods, driving the National Farmers' Union to call on the government to implement a water strategy to prevent damages.
LATIN AMERICAN DROUGHT: The state of Pará, in northern Brazil, suffered an "unusually fierce dry season" caused by the combination of large-scale cattle farming, climate change and weather events such as El Niño, the Guardian reported. The publication wrote that palm trees "have started to shrivel up and turn brown", rivers and aquifers are drying, the odour of smoke permeates the air and land-grabbers "are taking advantage of the tinder-dry conditions". In the state of the Amazonas, also in Brazil, more than 3,000 forest fires were registered over 1-23 October, which has increased the number of respiratory problems, reported Mongabay. At the same time, it is expected that a "severe drought" will reduce daily ship crossings of the Panama Canal and increase shipping costs, according to MercoPress.
DUBIOUS DECLARATION: A new Unearthed investigation found that large EU agribusiness groups are using a "pro-meat manifesto" to lobby senior EU politicians. The "Dublin Declaration" – signed by more than 1,000 scientists and used by trade groups to oppose green policies – was "written, released and promoted by agribusiness consultants", freedom of information requests revealed. Prof Erik Mathijs told Unearthed the declaration "is actually fairly uncontroversial" in asking that the "social, historical and cultural value" of animal food products be recognised. New York University's Dr Matthew Hayek told the outlet the declaration was a "hugely misleading endeavour" that "fosters confusion and doubt when there should be none". The declaration's organising committee denied that their ties to private organisations was affecting their scientific objectivity. 
Watch, read, listen
BANKING ON SEEDS: Indigenous peoples in Brazil are preserving the country's biodiversity through a seed bank, Amanda Magnani wrote for Latin America News Dispatch.
'DAUNTING TASK': Marine geographer Dr Dawn Wright told NPR's Short Wave about her experience exploring the seafloor and its importance for human life.
ENERGY VS ENVIRONMENT: In Cambodia, renewable energy projects are sparking debate over their impacts on local biodiversity, Anton Delgado said in the Japan Times.
INSECT REVOLUTION: A podcast from Table addressed the opportunities for expanding insect consumption in Europe and its potential to reduce land and water use.
New science
Global Change Biology
According to a new study, changes in nesting behaviours will not be sufficient to offset the impacts of changing temperatures on sea turtles at a majority of nesting sites. Researchers modelled sea turtle hatching using both historical and projected air and sea temperatures under a moderate warming scenario, then assessed how nesting earlier or later in the year would improve hatching success and influence the sex ratio of the hatchlings. They found that although some turtles could maintain their current nesting temperatures, success rates and sex ratios by shifting their nesting timing, for half of the sites, no such shift would be able to maintain current temperatures. They conclude: "Turtles may need to use other adaptive responses and/or there is the need to enhance sea turtle resilience to climate warming."
Nature Climate Change
The availability of nutrients, such as iron and zinc, is expected to decline in seafood by around 30% by the end of the century in low-income countries under 4C of warming, a new study found. The researchers combined fisheries databases and predictive models to analyse nutrients from fisheries and aquaculture in the past and to project future paths under climate change. They found that climate change, for example, has driven changes in species distributions and productivity and modified catch composition, changing the nutrients people consume. The researchers highlighted the importance of seafood for physical and mental development and suggested securing "effective mitigation to support nutritional security of vulnerable nations and global health equity".
One Earth
New research found that future climate change, including marine heatwaves, could diminish ecological connectivity – the ability of organisms to move freely – in marine protected areas (MPAs) by 50% and hinder the recovery of vulnerable species to those changes. The researchers mapped and analysed areas of the coastal Pacific Ocean near California that met proposed MPA guidelines, then quantified the connectivity of fish and invertebrate larvae. The authors provided 21 guidelines for designing marine reserve networks, including incorporating connectivity, allowing time for recovery and adapting to climate change. They concluded that expanding marine protected areas coverage – particularly critical areas for connectivity and climate refugia – is crucial to enhancing the climate resilience of the ocean.
In the diary
Cropped is researched and written by Dr Giuliana Viglione, Aruna Chandrasekhar, Daisy Dunne, Orla Dwyer and Yanine Quiroz. Please send tips and feedback to [email protected]
Sharelines from this story
Cropped 8 November 2023: 'Hidden costs' of food; Gas auction controversy; Looking towards COP28