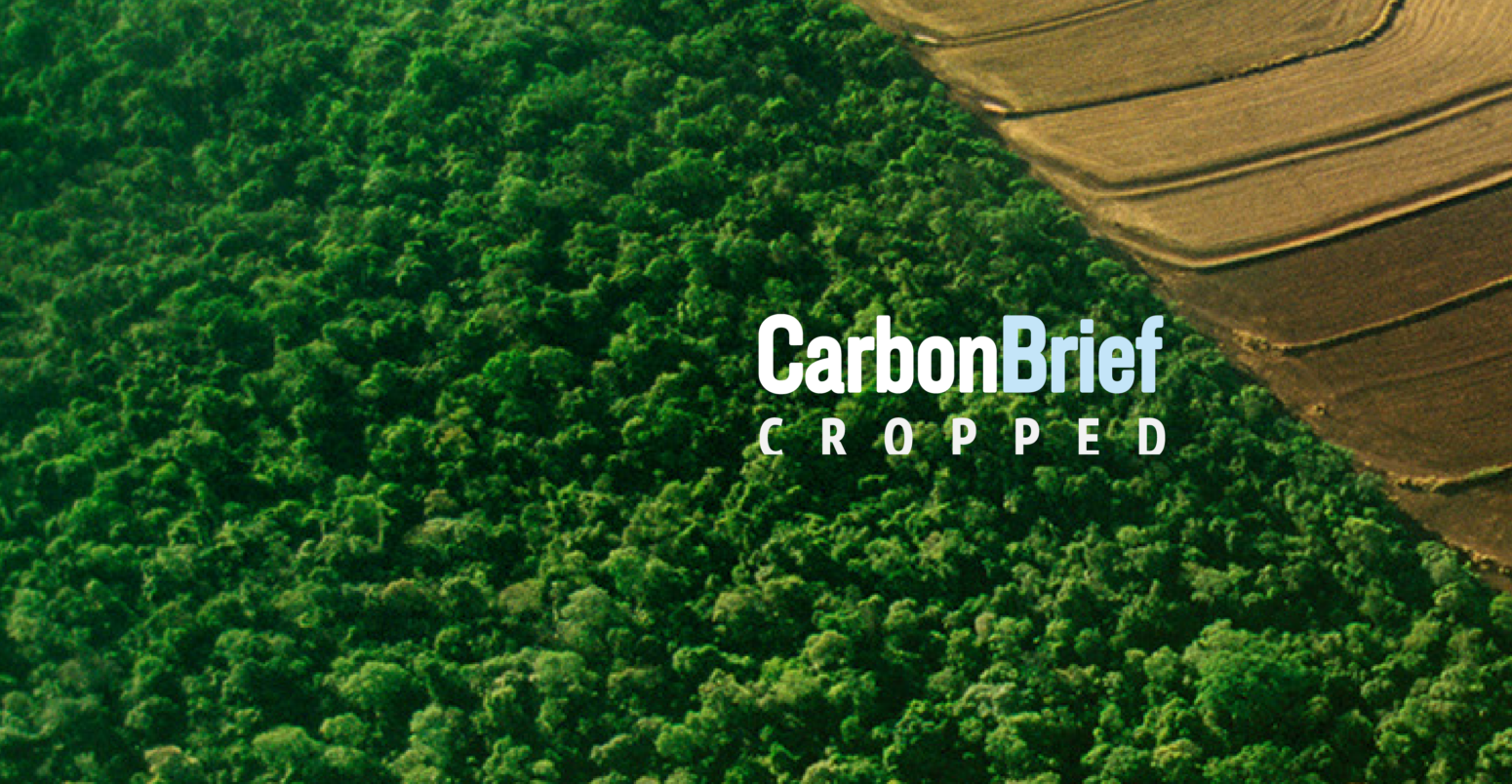 Cropped 8 February 2023: UK nature plans; EU-Mercosur talks; US logging ban


Nature
Cropped 8 February 2023: UK nature plans; EU-Mercosur talks; US logging ban
Welcome to Carbon Brief's Cropped.
We handpick and explain the most important stories at the intersection of climate, land, food and nature over the past fortnight.
This is an online version of Carbon Brief's fortnightly Cropped email newsletter. Subscribe for free here
Snapshot
A new government plan has set a target for all people in England to live within a 15-minute walk of green space or water in the future. Further details of England's farm payment schemes aimed to help nature and improve biodiversity were also released.
Sign up to Carbon Brief's free "Cropped" email newsletter. A fortnightly digest of food, land and nature news and views. Sent to your inbox every other Wednesday.
A "window of opportunity" has opened to finalise the controversial EU-Mercosur trade agreement. EU officials and leaders in Brazil and Argentina indicated the deal could be signed off later this year – but not every country backs the plan over environmental concerns and fears it will negatively impact EU farmers.
The US government restored protections for more than half of the country's largest national forest in Alaska. Just days later, it cleared the way for an $8bn oil and gas project on federal land in the same state.
Key developments
Grand plans for UK nature
CLEANER AND GREENER: Last week, the UK government outlined plans for every household in England to be within a 15-minute walk of green space or water, the Guardian reported. A major new environmental plan was released, which set out a plan to achieve a "cleaner, greener country". Ordnance Survey, the British mapping agency, estimated that currently, 28% of people live further than 15 minutes away from their nearest public park, BBC News said. This new report also tied in how the agriculture sector will help to achieve key climate and biodiversity targets – something detailed further in an update on England's new farm funding schemes. These "environmental land management schemes" (Elms) are intended to boost the nation's biodiversity and help to tackle climate change.
ELMS UPDATE: Under Elms, farmers and landowners can apply for public money to support up to 270 activities that benefit the environment, from restoring hedgerows to avoiding insecticides. People in Scotland, Wales and Northern Ireland will be waiting a bit longer for this post-Brexit clarity as similar policies have yet to be put into law in those nations. Carbon Brief published a Q&A last week to assess the state of Elms in light of the new information, detail the progress of the policies in the devolved nations and examine how the schemes tie in with climate and nature targets.
EU FARM PLAN WOES: Meanwhile, in the EU, a key scheme aimed to improve the climate credentials of farming is in "deep peril", according to Politico. "Farm to Fork" – the EU's sustainable food plan – has had its most ambitious reforms "delayed or entirely blocked by political battles among farmers, EU officials and national diplomats", the outlet reported. An internal European Commission document seen by the newspaper showed that many of the plan's most "far-reaching reforms are stuck in the mud". The contentious issues still being figured out within the bloc include governments being at odds over plans to reduce chemical pesticide use on croplands, EU officials' fears of criticism from trade partners over intentions to change animal welfare rules and divisions over plans to impose standardised food health labels.
EU-Mercosur trade ties
FOUR YEARS LATER: The "stars are moving into alignment" to complete the EU-Mercosur trade deal almost four years after it was agreed, Politico reported, adding that the final talks "might be the toughest". The agreement, which intends to reduce tariffs and quotas to increase trade flows, was reached between the EU and the Mercosur trade bloc of Argentina, Brazil, Paraguay and Uruguay in 2019 after two decades of talks. But the deal has not yet been ratified. German Green MEP Anna Cavazzini told Euronews: "I don't think a deal would have been possible with former president [Jair] Bolsonaro." Politico noted that a number of European leaders have recently visited Brazil, "marking the return to friendlier relations" with the nation. New Brazilian president Luiz Inácio Lula da Silva ("Lula") recently said that discussions will "step up" with the EU to finalise the agreement "so that we can then discuss a deal between China and Mercosur", Agence France-Presse (AFP) reported, via France 24.
AGAINST THE DEAL: Some EU countries, including France and Ireland, have previously spoken out against the Mercosur deal, but it is not yet clear if they still take issue with the deal. In 2019, French president Emmanuel Macron and Irish taoiseach Leo Varadkar threatened to vote against the deal unless Brazil took environmental commitments more seriously, EurActiv reported at the time. In the French presidential elections last April, Macron continued to tout his opposition to the Mercosur deal, Politico wrote. In 2017, Varadkar raised concerns over the trade deal's potential to damage Ireland's beef industry, Reuters reported. Austria's agriculture minister Norbert Totschnig this week said he is against ratifying the deal, according to Viennese outlet Vindobona.
HOW SOON?: The timing has "never been better" to finish the Mercosur deal, three MEPs wrote in an opinion piece published in EUobserver, adding: "The pandemic and the war in Ukraine have created a new geopolitical international scenario and have brought to light even more the interdependencies between our two regions and the need for close cooperation, joint responses and common solutions." European Commission vice-president Frans Timmermans said he hoped to finalise the agreement before the "next summit with Latin America", which takes place in July, according to reporting from AFP published in the Buenos Aires Times. Argentina's president, Alberto Fernandez, also expects the deal to be signed off soon, Bloomberg wrote, as does Commission president Ursula von der Leyen.
AMAZON UNCERTAINTIES: It is unclear the impact that the EU's new landmark anti-deforestation law – covered previously in Cropped – will have on some EU countries' environmental concerns about the deal. A recent Reuters piece examined Brazil's continued battle with deforestation. The newswire said that despite Lula's vow to end Amazon destruction, "it may take years to show major progress, as understaffed agencies face a bureaucratic battle to hire staff". The mission to "defend the Amazon" is unlikely to see much progress until at least 2024, the newswire said, based on interviews with nine current and former government officials. A recent study found that 38% of the Amazon has been degraded by one or more factors, including fire, timber extraction and extreme drought.
US ditches logging but backs drilling in Alaska
FOREST PROTECTION: President Joe Biden has restored protections for more than half of Tongass, the largest national forest in the US, the Washington Post reported. Tongass, which is located in Alaska, is a "relatively pristine expanse" that has been "the focus of a long fight between environmentalists and Alaskan timber interests", according to the paper. In 2020, state leaders persuaded the Trump administration to allow new roads and logging, undoing protections from the Clinton era. But on 25 January, Biden administration officials announced it will repeal the 2020 Alaska Roadless Rule, making it once again illegal for logging companies to build roads and cut trees in much of the forest.
CLIMATE KEY: The area protected totals around 9m acres (3.6m hectares), the New York Times said. It reported that, according to officials, "the effort would protect cedar, hemlock and Sitka spruce trees…that provide essential habitats for 400 species of wildlife, including bald eagles, salmon and the world's greatest concentration of black bears". The trees in Tongass store more than 10% of the carbon held by all national forests in the US, officials told the paper. In a statement, Biden's agriculture secretary Tom Vilsack described the move as "key to conserving biodiversity and addressing the climate crisis".
OIL EXPLORATION: However, just days later, the Biden administration cleared the way for a $8bn oil and gas project in a national reserve on Alaska's north slope, the Guardian reported. If approved, the Willow project – led by US oil and gas driller ConocoPhillips – would be one of the largest-ever fossil fuel developments on federal land, according to the Guardian. On 1 February, the US's interior department released an environmental impact assessment recommending the approval of a "scaled-back version" of the project originally proposed by ConocoPhillips. This version would produce around 600m barrels of oil over 30 years, with a peak of 180,000 barrels of crude oil a day, according to the Guardian. The New York Times reported that burning this oil would produce 278m tonnes of CO2 – around the same as the annual emissions of the world's eighth-biggest emitter, South Korea.
'CARBON BOMB': The oil and gas project has long been opposed by people living in the neighbouring Alaska Native village of Nuiqsut, according to the Guardian. Karlin Nageak Itchoak, senior regional director at the non-profit Wilderness Society, told the newspaper: "Willow is a carbon bomb that cannot be allowed to explode in the Arctic. Our Native villages are eroding into the sea, thawing permafrost is making infrastructure insecure, and food sources are disappearing…And this project would just exacerbate and speed up the climate crisis in the Arctic." The mayor of Nuiqsut, Rosemary Ahtuangaruak, told Alaska Public Media: "We want to feel safe in our homes and our daily lives and to be able to continue to be Inupiat in our lands and waters, and eat our foods."
News and views
BOTTOM-TRAWLING BAN: The EU is planning on introducing a ban on bottom trawling – a fishing technique where nets are dragged across the seafloor, often harming wildlife – in marine protected areas by 2030, according to a draft plan seen by EurActiv. The publication reported that a bottom-trawling ban is one of the flagship measures included in a draft version of the "EU Action Plan to protect and restore marine ecosystems for sustainable and resilient fisheries", which is expected to be released in the first quarter of 2023 by the European Commission. Deep-sea trawling at depths greater than 800 metres is already banned across the EU, with some exemptions, it added.
INDIA FUNDS: Two schemes for mangrove plantation and wetlands conservation were included in India's 2023 budget, Mongabay reported. The publication said that both researchers and policy experts welcomed the announcement, but the New Indian Express noted that the environment ministry overall "received little attention in the budget". A comment piece in the Tribune, an Indian daily, said farmers were "ignored" in the budget and given "short shrift on the pathway to attaining growth". A deep-ocean exploration initiative received double its funding allocation for the year prior, Down to Earth reported. Meanwhile, wheat prices in India dropped by nearly 13% from record levels since the government offered 3m tonnes of the grain to bulk consumers, according to Reuters.
CHILEAN FIRES: Devastating wildfires in Chile have burned through 47,000 hectares of forest amid a "scorching summer heatwave", Deutsche Welle (DW) reported, killing at least 26 people, according to the Latin American news network Telesur. Around 75 planes and 2,300 firemen have been deployed to battle blazes in the country, DW said, adding: "The fires have resulted in the death of one firefighter and injuries to at least eight others. Meanwhile, two crew members of a helicopter were killed in a crash while fighting the blazes, officials said." According to DW, the country's interior minister Carolina Toha told reporters: "We are becoming one of the [nations] most vulnerable to fires, fundamentally due to the evolution of climate change." The Copernicus Atmosphere Monitoring Service (CAMS) noted that "dry weather, high temperatures and strong winds" were "exacerbating the situation" and tweeted a gif showing the smoke plumes produced by the fires.
WALL OF TREES: Leaders of the Great Green Wall initiative in Africa have signed a memorandum of understanding with three organisations planning a scale-up of the scheme's implementation across the Sahel, according to a press release from Tree Aid. Dr Brahim Saïd, executive secretary of the Pan-African Agency, said in the statement that the agreement shows that "African nations are leading the way with affordable solutions to the climate crisis, delivered by local communities with effective local leadership". The Great Green Wall is an initiative aimed to grow 8,000 kilometres of trees across Africa in order to restore degraded landscapes and sequester carbon.
JAMÓN CRISIS: Spain's famous jamón ibérico bellota, which sells for upwards of £88 (€100) per kilogram, is being put at risk by climate change, the Guardian reported. It explained: "It is produced exclusively from blackfoot pigs, which must spend the last month of their lives gorging on acorns (bellotas) in the dehesa, a type of oak forest peculiar to the west and north-west of Spain. The problem is that, as a result of unusually hot and dry summers, the oaks are producing fewer acorns. This, plus a drop in the market price, led to a 20% reduction in the jamón ibérico produced last year in Extremadura, one of only four small regions that enjoy the official denominación de origen." Last year was Spain's hottest on record and the third driest, according to the paper. Rainfall in Extremadura has fallen by around 35% in the past 50 years, it added.
Extra reading
New science
Enhancing the ecological value of oil palm agriculture through set-asides
Nature Sustainability
Setting aside land for nature within palm oil plantations can help boost tropical biodiversity, according to a new study. The research used modelling to assess how leaving wild spaces for nature in tropical palm oil plantations could positively impact biodiversity, carbon storage and other ecosystem services. It found that any "set-asides" boosted biodiversity, but that "the best strategies involve set-asides, particularly alongside rivers, that are spatially targeted and variable among plantations". Such bespoke set-asides were twice as effective at boosting biodiversity than a uniform approach, according to the results. The authors concluded: "Our findings underscore the potential importance of well-planned set-asides for enhancing agricultural sustainability."
Extensive global wetland loss over the last three centuries
Nature
According to new research, around one-fifth of the world's natural wetlands were lost between 1700 and 2020 – lower than previously estimated. By tying together records of drainage and conversion with land-use maps and simulated wetland extents, the research reconstructed the distribution and timing of wetland loss through conversion to seven different human land uses. It found that drainage for upland croplands was the most common reason for loss of natural wetlands. Researchers concluded that previous studies "overestimated global wetland conversion" but added that this study's findings "should not lessen the urgency to protect and restore" wetlands, especially in areas with ongoing drainage.
Cooling cities through urban green infrastructure: a health impact assessment of European cities
The Lancet
Planting more trees in European cities could help reduce the number of people dying during episodes of extreme heat, a new study found. The research used modelling to examine how increasing tree cover could have helped to prevent deaths during a 2015 heatwave across 93 European cities, which killed 6,700 people. The results found that increasing tree cover to 30% across the cities could have lowered temperatures by an average of 0.4C, saving 2,644 – or one-third – of the lives lost during the heatwave. Average city tree coverage in Europe is currently around 15%. The authors concluded: "Our results…highlighted the health benefits of increasing tree coverage to cool urban environments, which would also result in more sustainable and climate-resilient cities."
In the diary
Cropped is researched and written by Dr Giuliana Viglione, Aruna Chandrasekhar, Daisy Dunne, Orla Dwyer and Yanine Quiroz. Please send tips and feedback to [email protected]